Why Google?
A better question: Why NOT Google?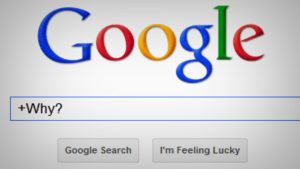 Why is it so important to be at the top of the first page of Google? The reason is that Google is the king of all search engines. Google dominates the search engine market as the most popular and widely used search engine today. It is so popular people have coined the term for searching on the Internet, referring that a person looking for something online should "Google it"! Google surpasses all search methods through superior reach and visibility. It enables local small businesses to advertise alongside of national companies without paying the steep price of corporate advertising.
Catering to the Google Generation!
Today's youth do not use textbooks, card catalogues, or phone books to find what they are looking for. They use their smart phone, laptop, or home computer to Google a store, restaurant, or salon. It is easy to consider that one-day paper books will be obsolete. Google has become the new Yellow Pages. Businesses that want to be seen and expand their business want to be found in Google. Google receives over 2.5 million searches each day. They receive 1 billion visitors per month as the dominant search engine in the US market. It is easily accessible, user friendly, and has become the most popular method for searching for services, products, or information on the web!
Fast, Effective and Accurate Search Results!
Google began in the 90's with a simple search tool that was easy enough for anyone to use. The user went to Google.com where the screen displayed the Google logo, a search bar, the option for Google search, or I'm feeling lucky. Users would enter a keyword for the item or service they wanted and Google would provide a fast, effective and accurate search result. Google has kept their search engine simple. Today it looks almost identical to when it began.
Getting to the Top of Google!
However, behind the simple appearance and ease of use, Google has created a massive system of web crawling software that they are continuously updating to improve their search system. Today more people rely on Google search for speed and accuracy over any other search engine. Companies who want to improve their online presence strive to be at the top of the first page of Google, which is why so many businesses rely on the SEO expertise of Top of Google to help them raise their Google search-ranking straight to the top of Google.