Drive Targeted Traffic to Your Site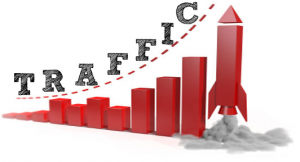 You may have a phenomenal product or service available on an attractive web page and still go unseen by consumers. How is this possible? Search engines consider a websites importance based on Meta tags and page content keywords. When a consumer enters a keyword or phrase the search engine will match the search with relevant websites. The first 10 listings are the most relevant or keyword dense websites related to the consumer search. These 10 listings are often the only websites that the viewer will consider. So how do you ensure that your website has the most popular keywords related to your brand? Simply said you seek out the assistance of an expert in the SEO field. One of the most reliable SEO service providers is Top of Google. They are experts in organic search listings and keyword search popularity.
Increase Traffic Flow and Raise Your Search Placement
Top of Google provides a one-two punch through search engine optimization. There SEO services will help you be found by consumers searching for your product, service, or information. They also enable you to improve your search ranking and achieve a top 10 in Google listing on the first page. As SEO experts, Top of Google has the knowledge, experience, and resources to ensure that your website content grows in relevance to Google search. Search engine crawling software will view the keyword relevance on your site as important and direct consumers to your page. Be found by Google, generate leads, and acquire customers with the help of Top of Google.
How Top of Google Achieves These Results
Top of Google does all of the research for your company. They then use the best keywords for your company to create optimized press releases and web articles that are then submitted to the proper channels for ranking elevation. Regular relevant content draws Google to your website, which in-turn increases the relevance of your site and directs increased traffic to your site. Top of Google continues to add two new optimized press releases to your site to continue your elevated rank status. To register for SEO services from Top of Google call (877) 867-6346 ext. 311.
For more information about how to drive targeted traffic.